Goodness 68 Years in the Making!
Bruttles' signature candy begins with a one-of-akind, 68-year old classic recipe. Our unique recipe has been handed down, improved, and protected over the years. The result is a confection with a soft, flaky consistency and a rich, creamy peanut butter flavor.
Aunt Sophia Gerkensmeyer, an "old world" master candy maker, developed her Soft Peanut Butter Brittle in Spokane, WA. Each batch of our secret recipe candy is still hand-pulled on the marble slab she purchased from the world-famous, historic Davenport Hotel.
What began as a turn-down service for Spokane's Davenport Hotel has led to a whole line of luscious confections. We have now moved out of the hotel to a larger space across the street. We pay the same close attention to each small batch of candy we make today, just like Aunt Sophia did. We will not compromise on the quality of our products — nothing but fresh, Grade A ingredients make it into Bruttles' confections.
The result is like nothing else you've ever tasted!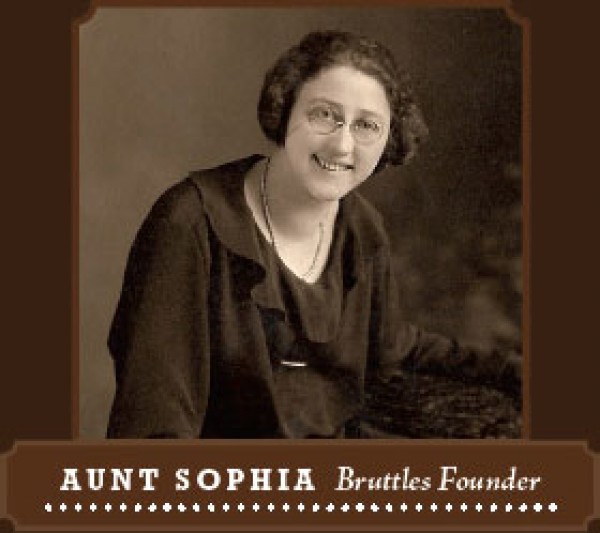 About Aunt Sophia - The Bruttles Founder
Aunt Sophia began her candy making career in 1914 at the age of 17 at the Tru Blu Biscuit and Chocolate Factory in Spokane Washington.
She and three of her sisters, including my grandmother, became chocolate dippers and packagers. She moved up the ranks and became a line leader. In 1923 she married Dick Gerkensmeyer.
She worked there until 1929 when she was the first one hired at the Davenport Hotel as a chocolate dipper.
Her hourly rate was 22¢ per hour until she became the "forelady"- a title she changed from foreman.
She continued at the hotel until the chocolate shop closed in 1940 because of the war. She worked at Matthews Candies, Riley's Candies and Cook's Candies until 1965.
She just couldn't keep her hands out of chocolate so each year made the family her famous Brandied Cherries, dipped fruit and nut clusters.
In 1951 while employed as a candy maker, a regular customer came in the shop to get her Old Fashioned Peanut Butter Brittle. She loved the flavor of Aunt Sophia's candy but said she wished it could be made soft so it wouldn't be so hard on her dentures.
Aunt Sophia went home that evening trying to figure out a way to make the brittle "soft."
After talking with her brother-in-law who was in charge of purchasing all the food used at the Davenport, he told her of the first big remodel and that there was a lobby full of marble that was brought up from the basement. He told her if she got down there right away she might be able to get a piece. She knew she needed to use marble for her chocolates and brittle so took the bus downtown and talked a workman out of a large piece of marble for $20. It weighed nearly 60#. The bus driver helped her get it off the bus and carried it into her home.
Later that week Uncle Dick took her to a mortuary where they trimmed, honed and polished her slab for candy making. After two weeks of trying different methods, she came up with her own version of "Soft" Peanut Butter Peanut Brittle. She only made this for family and friends and her church bazaar. She last made candy in 1996 at the age of 99.